Against the Force of Nature, We Humans are Ants...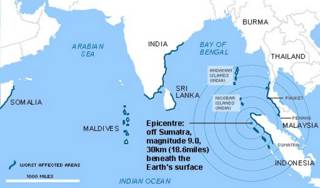 The Asian Tsunami affected areas


The new year period has always been a time of reflection and self-examing for myself. Yet this year, the Asian Tsunami has brought about a whole new perspective for me.
The death toll stands at 147,000 today. It's hard to imagine how little time it took for so many people to lose their lifes. The force of nature has never been so aptly displayed until today; at least to me, this is the case.
I remember crushing a whole lot of ants with a simple sweep of my hands. I guess at that very moment, those victims must have felt just like those ants, helpless and weak against the onslaught of a much more powerful being. I have always been grateful for our progress in civilisation and technology in this age. The ever-ongoing process of advances and evolution, to dominate over creatures and the environment; based on our ability to innovate. Alas
,
in the face of nature,
we humans are not better than little ants.
If we are indeed like ants, then what meaning does it make for our existance?